Writing Location: Greyhound Bus Station Detroit
On the Greyhound Night Express from Baltimore to Detroit I sat down next to Michael and behind Eloise and her little son Mason. I don't exactly remember Eloise's name so let's just call her Eloise. We started talking because they noticed my accent and we quickly became a great travel team. I spend hours talking to Michael about his and my life, about his and my home country, about his and my attitude and opinions. We all totally hit it off. Michael used to be a soldier stationed in Japan and Spain but retired from his service because he didn't like the overdone strictness in the military. He was now a construction worker travelling across the US to work wherever his work was needed. Eloise was a teenage mom from Pittsburgh and her son Mason was the cutest baby I had ever seen. He particularely enjoyed licking his hands before rubbing them against my arm. Probably he wanted to check whether my skin colour was just painted on and I was black underneath, since I was so good with him. The fifteen hour bus ride just flew by. I guess there is something like karma and if 20 bucks was the price I had to pay to meet these three, I gladly paid it.
Eloise and Mason got off the bus in Cleveland, Ohio while Michael and I used the 30 minute break to check out the city and take a picture of the Quicken Loans Arena, home stadium to LeBron James and the Cleveland Cavaliers - my ex-roommate's favourite basketball team. 
We got off in Detroit a few  hours later and went for some lunch. Lunch was great and the restaurant didn't only serve excellent sandwiches but also had a very special feel to it. A feel of oblivion, a feel of lostness. And everyone who's had a closer look at my homepage knows that I just love lostness.
After lunch we decided to go sightseeing in Detroit but quickly  realised there were barely any sights to see. Detroit is easily describable in three words: Vacant, dirty, dull. Sorry Eminem! If  you don't believe me, here are a few  impressions of Detroit:
After Michael had taken his bus up to Minnesota, I made my way to my accommodation. I had booked a cheap room in a… let's say… difficult area via Airbnb. I had stayed in a very bad neighbourhood in San Francisco before so I roughly knew what to expect. As the bus left the richer downtown district, the poverty and the effects of the long lean period at Ford and GM became abundantly clear. Abandoned houses, huge premises with nothing but trash  and rusty fences on them. For about ten minutes I saw one condemned fassade after another rush by. Then, to my pleasant surprise, we reentered civilization. Cheap but habitable houses now lined the streets.
Suddenly the woman sitting across from me started talking.
"Did anybody ever tell you you looked like Jesse McCartney?"
A bit puzzled I responded: "Ehm, no, but I don't know her, so I wouldn't know whether it's a compliment or not."
She smiled. "It's a him. And it is a compliment. Do you know Leonardo DiCaprio?"
"Yes I do" I exclaimed quite flattered "He is one attractive son of a bitch."
"Yes he is" she said still giving me that cheeky smile "You look nothing like him! But I hear he and Jesse McCartney are friends so… I'm just gonna show you a picture."
I have to admit. I kinda look like that guy, just a tad more handsome. Check it out (and just in case you're unsure; I'm on the right):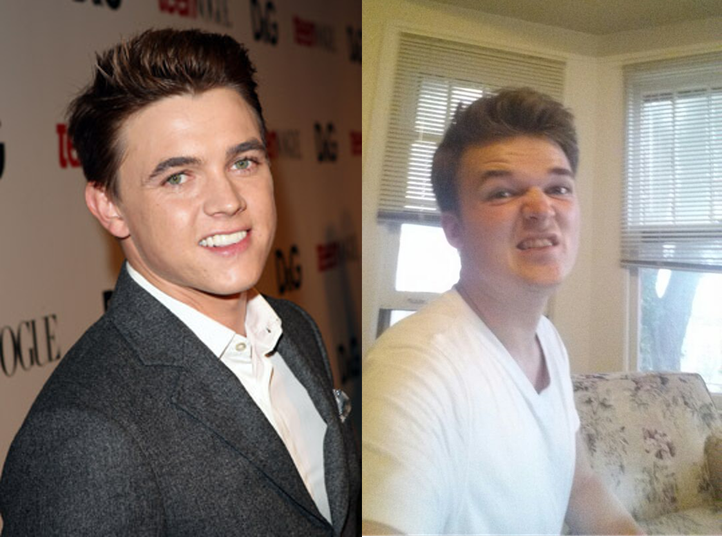 After thanking the lady and lying about her kid being cute in return, I got off the bus and walked to my accomodation. This was a poor district, I could tell. As I crossed the street I got yelled at from behind. It was a group of drunk bouncers – at least they looked like it - sitting on their porch looking over to me.
"Where you from, son?"
"Germany, where are you from?" that one always earns me laughter. They laughed. The apprehension of me dying within the next two minutes subsided marginally.
"What you running through Detroit fo? And why yo have 'dem broken ass leg?" I asked. Haha, gotcha! Obviously the bouncers had asked that.
"Well, I'm here on vacation and actually  the leg is fine, it's the ligaments which are ruptured."
They quietly looked at each other. I was losing them. Hastily I added:
"And I wanna take some mean pictures of this awesome place."
Affirmative whispering set in. After a while one of them said:
"Alright, but don't take no pictures of us , cause we wanted fo murder!" They burst into laughter. I did too.
"Alright guys, see you around, have a good night!"
"Yea, man! C ya!"
After this incident nobody yelled at me anymore. But it seemed like everyone was smiling at me. So at least the inhabitants were equally as friendly as their city was ugly. Or maybe they were smiling at me because I had a booger on my face or something. Who will ever know? Fact is: I felt very welcome and that was all that mattered. My host introduced me to the old couple downstairs upon arrival. Mr. and Mrs. Williams smiled at me abcently and waved. Here are some pictures of the accomodation:
To my delight, the CVS pharmacy downstairs had my favourite american drink: Snapple! So I bought a few bottles, drained almost all of them, brushed my teeth and then – for the first time in over 35 hours – I went to sleep.