Writing Location: Library
The University of Michigan comes in on position 14 in the Times World University Ranking. That means there are only 13 institutions of higher education in the world better than U-Mich.This is very much owed to the fact that there's a lot... a LOT of money envolved. In a previous blog entry I already mentioned that U-Mich has an annual budget of more than $7 billion. That is $7,000,000,000! Just to give you an impression of how much that actually is I looked up the annual budget of my home university, the University of Tuebingen. It's $470 million. Even when taking into account that the University of Tuebingen facilitates only about 2/3 of U-Mich student total, that is a significant difference. Tuebingen's financial resources per student are less than 10% of U-Mich's. And it doesn't take long to notice the difference. Not so much in the University Ranking - Tuebingen comes in on a surprising 78th position - but in terms of facilities, equipment and educational quality. Let's dive right in: 
Walking to my first class I was nervous. I guess that's normal. I didn't know any of my classmates yet and much more intimidating: I didn't know what to expect in terms of academic complexity. Certainly this university had much higher expectations of my academic abilities than my home university. Would I be able to keep up with the other students? I didn't know yet that these doubts about me and my skills were about to be washed away by the engagement of the professors.
As I approached the North Quad - the building I'd have my first class in - I was reimpressed by it's size and architecture.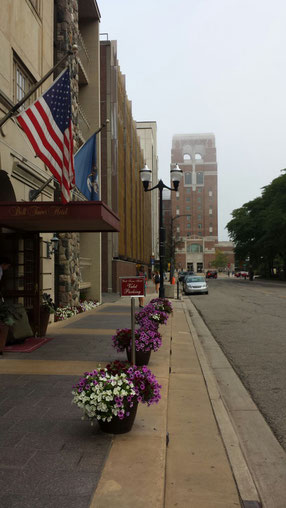 Obviously I had seen it already walking around campus. It was my first time entering it though. From the inside it was just as nice to look at as from the outside. High ceilings, smooth stone floors and beautifully crafted columns. I walked through the halls until I found the classroom. The classroom's design was very different from the building's overall design but just as nice. There were couches, coffee tables, comfortable desk chairs and at the head of the class a lectern, equipped with heaps of electronical devices. I sank into  one of the comfortable desk chairs. Just as I caressed the tender leather in sumptuous ecstasy, I realised I couldn't get as accustomed to all of this as I was about to, since I'd only be able to enjoy this for 9 months before returning to rock-hard stools and ridiculously malfunctioning electronics at the University of Tuebingen. I stopped fondling my chair. Surprisingly, a friendly face entered the class. Caroline, a french exchange student was also taking chinese classes and she also chose the early of the four sessions from 9 to 10 am. What are the odds? 
She took the place to my left but before we could start a conversation our chinese instructor entered the room. With a huge smile on here face she rushed to the lectern, pressed a few buttons and wonderful things happened. Two projectors came down from the ceiling, two wide white screens rolled down on two opposite sides of the classroom and her presentation popped right up. I had never seen technology function at a university before so naturally my chin dropped just as quickly as the screens which now showed a welcoming slide. The other students were impressed too, I could tell. The class itself was intense. Not intense for a first class, it was intense intense. And I was very happy about it. In the first few months of learning a new language, my behind needs to be impacted by a foot in a motivating fashion for me to study properly. And as if our instructor knew, she did it in the first class already. In a nice way of course, but she did it. 
My next class, COMM 408, was just as technologically advanced. Again, there were two projectors - they were helpful because all the tables were circular and you could follow the presentation facing either direction - there was this miracle-lectern again and the desk chairs were as comfortable as ever. The only difference were 30 high-tech Apple computers decorating this room. Jesus, this school is rich as fudge. Our professor was super nice and the content of his class didn't seem to be unmanageably hard but still very interesting (it was about political communication). I was relieved. Everything was going great so far. Two hours later it was time for lunch. I grabbed a sandwich and met a few friends on campus, where we just sat in the grass and talked about how our days were going so far. 
Soon it was time for my next class, COMM 287, which was on the other side of campus and, again, didn't seem too hard. I'm not going to mention the equipment anymore, because it was about the same everywhere. After COMM 287 was over I rushed out of the lecture hall because I only had ten minutes to make my way across campus to my next class and this one took the cake.
It was Tim O'Day's class on designing persuasive communication in marketing and advertising and he had a very... different approach to teaching than most other professors. First off he told us, there wouldn't be any exams or papers or homework. That wouldn't be of use for us in the real world. Admittedly, he was in the position to tell us about what we would or would not need in the real world. In his twenty years in advertising he was marketing director of a huge agency doing campaigns for massive companies like Kellogg's, McKinsley and J.P. Morgan. And until he had his heart-attack a few years ago and finally became a professor - first at Yale University and then at the University of Michigan - he was outstandingly successful in his field. We'd have to prepare pitches for local and national companies, he continued, that's how he'd evaluate our work. For the next session all students have to make up a pitch about themselves to save their seat in this class. I will keep you updated about mine!
After this exciting class my first day at the University of Michigan was over. And what can I say? It was exhausting, it was challenging and most of all: It. was. AWESOME! I went to bed rather early and didn't even notice falling asleep. 
The second day of uni was easy going. I only had chinese class but I had to read a lot for the other classes. I'll have to read a lot more in the States than I did back in Germany. And I had to read a lot in Germany already. But since every class has at least two sessions a week - except for Prof. O'Days class of course, because his rule is that there ain't no rules - I'll have to read about twice as much. 
Obviously, I can't tell you about every single day because it would be quite repetitive and let's face it: boring. Instead I'll just jump ahead to Thursday now. 
Apperently baseball is a hugh deal in the US. I mean in Germany it's called "Brennball" and only 4th graders play, but whatever. People take it seriously over here. So when I returned from uni on Thursday, I had some dinner and as I was finishing up, Trent, one of my housemates returned home from a trip to Pittsburg(h). He seemed very excited.
"What's up, man?" I asked, curious about what he was so excited about.
"Dude, my brother was just pulled up to the major leagues and won his first game."
Trent's brother plays professional baseball for the Pittsburgh Pirates.
"Awesome! Congratulations!" I replied.
"Thanks man!" he responded, shaking in excitement.
"But that's not the end of the story, is it?", I said and narrowed my eyes in suspicion. 
"No, it's not!"
I congratulated the small part of me that still wanted me to become a detective.
"My dad was there too and he cried when my brother hugged him after the game."
" Well, it's a very emotional moment when your son is pulled up to the majors right?"
"Yeah, definately" Trent agreed "But the video of my crying dad and my bro hugging is going viral now!"
"For real?" I asked, partly happy for Trent and his family, partly disappointed in myself for doing all kinds of crazy stuff to go viral on the internet and failing (people who know me very well may recall stuff like the Techno Viking or the Bismarck Song).
"Yeah, and you can see me on ESPN for a few seconds!"
He showed me the video and kept rewinding it to the two-second-window where you could see an arm that did in fact look like Trent's. He pointed at his arm every time and smiled.
"Cool, dude!" I said, pretending to be impressed, but since I had been on TV myself * wipes dust off his shoulder and brushes his hand through his hair arrogantly* I was used to being a celebrity.
But the video was all over TV on friday morning, so I urge you guys to check it out right here (I'm not sure whether it's available outside the US, if not so, let me know and I'll look for another way to provide it to you):
Not only family Williams is blessed with good news though! Aside from the fact that it's my sisters' birthday today (they're the coolest) my whole family can celebrate my little cousin winning his fight against cancer. That's the best news one can receive on a friday noon! 
In the upcoming weeks and month I'll have a lot of work to do but I'll do my best to keep you updated about it! Have an amazing day, you guys!
Oh, yeah, I almost forgot. There was night entry at the U-Mich Museum of Art for the past few days and when I passed by it the other morning, everything was misty and looked very enigmatic: