Writing Location: Home/ Sunny Front Porch
I return to the real world from a place so far away and yet so close to all of us. I hear a bird singing a song so lovely, I would chime in if I wasn't drowsy still. I feel the 40% polyester/ 60% cotton bedspanner gently nestle up to my calves and feet. I smell a fresh autumn breeze wafting through my room. The warm sunshine on my face tells me that it's going to be a lovely day. What do I  have to do today? Well, I have slept in for the first time in weeks. That was great. But there was something else... Oh yeah, we're going to Detroit today. SHIRT! We're going to DETROIT TODAY!! I grab my phone and take a look at the time. We are supposed to meet in front of Angel Hall at 9:30 as the bus will depart at 9:45. It's 9:33!
That was the start of what was supposed to be a chilled out day in Detroit. And I've got to be honest with you: It was... later on. After I had grabbed my phone and my camera, put on a shirt and quick-brushed my teeth, I sprinted up state street as quickly as possible. I texted the group I was on the way and kept on running. When I reached the coach 10 minutes late, I was breathing more heavily than Donald Trump during the first presidential debate. Luckily everybody was rather amused than upset by the german guy being late - yes there are positive aspects to stereotyping, too.
As you guys know I had been to Detroit before and found it quite dull and grey and boring. But this time, the city was a lot more colourful. Don't get me wrong here, it's still not a very nice city, but the second time there was much better than the first time. I thought to myself that if I kept going there every weekend, I'm sure Detroit would end up being about as lovely as Essen in the Ruhrarea by the time I left the US next spring. On the bus ride, Caroline - the frevil (french + evil) girl - and I practiced for our Chinese oral exam which would be held the upcoming monday. Before we knew it, we arrived at Detroit's Eastern Market. This market was beautiful. Hundreds of traders from all over the Detroit area came here and sold their products. I'm going to let the pictures do the talking for this one: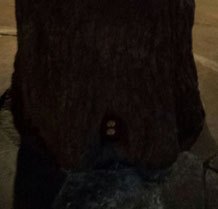 After the cute market, we were off to the historic museum. I had been there before but there was something new to see this time. The reconstruction of a small alley with a few shops and something that seemed to be unique to Detroit: Trees with power outlets! Now I start to understand this whole clean energy concept... We need some of those in Germany as well. 
While walking past the exhibits, I talked to Michael, the slow australian guy as you may remember him, and he told me that my blog made him start writing a journal. Very flattered - that is the biggest compliment I can think of - I urged him to make it available to the world. He's thinking about it. 
Lately I've been getting a lot of positive feedback for my blog and I just want to thank all of you. It is super fun to blog but it's a lot of work, too. And since I don't get paid for my personal blog, compliments are the most wonderful thing I can receive, so again: Thanks!


Ok, moving on from the sentimental stuff so I won't start crying. After an hour or two in the museum, we went for lunch at Slow's Barbecue, an acclaimed restaurant in western Detroit. It is beyond me why they would call their place Slow's, when humongous, delicious or humongously delicious are much more accurate adjectives to describe this place. Ok, I admit that Humongously Delicious's Barbecue would be a bit over the top but come on:
An hour after ordering our food, we were full. Full of food and full of regret for having stuffed our faces so recklessly. (As a sidenote: I didn't have food until about 24 hours later and even then I wasn't too hungry, but rather felt like I should eat again.) On the way to the Motown Museum, everybody almost fell asleep on the coach. But after funking it up we were able to get our systems going again with a nice downtown walking tour. We waved at Canadians near the border and I even got to fistbump the big guy: 
In other news the UofM football team brought home the highest win in 80 years (78-0). They played New Jersey... Seems like Ted Mosby was right about New Jersey all along! 
A couple of days ago Bernie friggin' Sanders was in Ann Arbor to support Hillary Clinton in the Presidential Election. Unfortunately the Museum of Art, where Bernie was supposed to hold his speech, was all filled up, so we didn't get in. But when Bernie's car pulled up in front of the buildig and he saw hundreds of students waiting outside, he came over and held a short speech for us anyway. Here's the full speech:
Also, it's autumn now. Of all the seasons, I like autumn the most. Why? The sun is actually warm and not super hot and you get to see scenes like this one: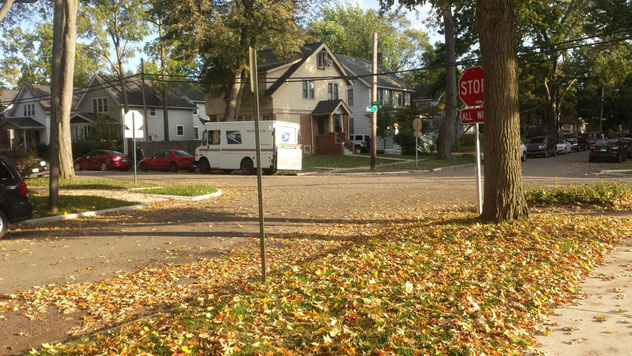 What a beauty! The upcoming week is exam week. Wish me the best for my exam, my essay and my oral exam and excuse me for not posting a new blog entry until friday or so!

PS: Big Thanks go out to Caroline and Heloise for providing me with pictures from the Detroit trip. I couldn't take too many since I had forgotten my memory cards at home... Like I already said: I'm an idiot.