Writing Location: Coffeehouse
"I give it a D-!"
"Why?" 
"Because I love America."
At least Woitek had given my costume a D-, so I thought it should be fine for the Halloween party I was about to attend. I knew that it may have been a tad controversial, but if there is one thing that's crucial to a functional society, it's critical thinking. And to me it seemed, that the United States in particular need to do that more frequently. Because Woitek had reacted so strongly, I was a little nervous about appearing at the party in a costume like this, but it turns out that my fears were without any reason.
Before I tell you about peoples' reactions, let's get a little into the components of my outfit: I was wearing an America flag suit, a plastic crown, 20-dollar-bill-glasses, a sign with a political message and worn out (at least) fifth-hand cowboy boots. In addition to that, I had a children's toy cigar - who in the name of the lord would encourage their kids to play with a toy cigar - which was sucked on and blown into by at least 50 people over the course of the night, so if you have an upcoming exam you don't want to take, I have just the right thing to give a serious case of herpes!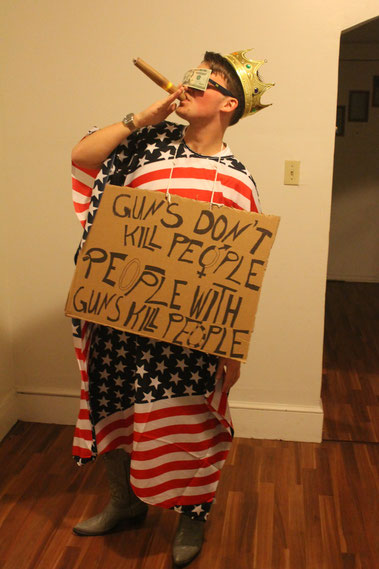 People reacted very well to the costume. Many times I was approached by Gandalfs and Marios and Harrys who expressed their appreciation for my costume and let me know that they felt the same way. A few dicussions about US gun laws and other political issues were unavoidable and actually pretty cool and interesting. The thing that surprised me the most was that nobody, even the people disagreeing with the message I was trying to get across, was upset about it, but rather accepted my standpoint and wanted to discuss the addressed issues. That's the kind of party I enjoy very much. 
In Germany people don't really care about or celebrate Halloween. Some party people dress up just because it's another reason to get well oiled. If you do dress up, you choose a scary costume. Even though Halloween in the States isn't about dressing up in a scary fashion - haha, see what I did there? - I considered my costume to be rather scary.
Obviously there was a bit of alcohol envolved in this event, which lead to some great pictures:
Initially I wanted to make the Tootsie Roll my drink of the night (named after the candy it tastes like and popularised by the TV show "How I Met Your Mother"), but since my local liquor store doesn't sell liquor - for realz? - I only brought root beer to the party. Luckily the hosts (Luther co-op house) had planned for few people bringing alcohol and provided several kegs of beer. They had done a great job organising this event. There was live music, awesome people and no complaining neighbors. Thanks, Luther!
Scary decorations are everywhere, too. I walked around the neighborhood and tried to capture the atmosphere:
I hope you guys enjoy your Halloween as well and if you dress up, don't bother sharing your costume ideas and execution!