What is it with me looking like a movie- or rockstar in the US? I look like Jesse McCartney, Ewan McGregor and lately I've been confused a lot with - believe it or not - Leonardo Di-freaking-Caprio. I'm not sure whether people are messing with me or whether they just want to pass me a compliment, but I've got to say... I LOVE IT! Keep it up, people! 
I actually managed to get my hands on a morph-machine and had a look at what a mix between Jesse, Ewan, Leo and myself would look like. The outcome was suprisingly unsurprising... It would look just like us: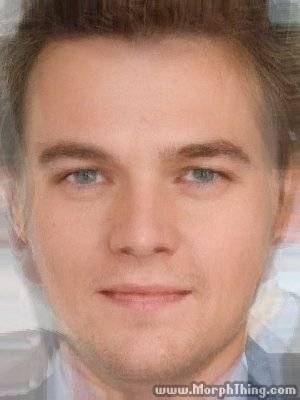 After I had proven to have the genetic potential of an Oscar-winner, I started doing weird stuff. Why? Because it's fun! Also, I was curious what certain combinations would look like, so here are a couple of the many, many morphs I did:
So... yeah. How did we get here? Oh yes! Someone told me I looked like Leonardo DiCaprio. Well, thank you... I know!
If you haven't already, be sure to check out the other blog I write for, as well! It is an art blog so the articles on there will always be somewhat related to art. Since I am only one of 15 writers on this art blog, you might find a huge variety of interesting articles, written by my very talented co-writers. I mostly include movies, music and literature in my texts. My latest article is on rain and why it will always be more romantic in the movies (Dad, you've got to click on the red "My latest article"-part in order to read it). Everytime I feel like it, I write for a third blog concernig sports. My latest entry for the WCBN Sports blog is all about the torturous lack of sports from Christmas through Mid-January (Dad, click on the red part again if you want to read).