Six men were found dead near the University of Michigan in Ann Arbor last night. The police could only excavate their bones. They were probably killed years ago... Ha, gotcha! What looks like a serious crime scene, is really just our anthropology class. We had a hands-on skull-touching class, which was sort of freaky but also really, really cool.
Also, our guest lecturer on genetic diversity amongst hominoids, with a special focus on hominines (humans), was a professor from Harvard University who had interesting insights into this topic. Did you know that of the already very low genetic differences in humans (about 0,5% of the DNA), 85% percent occur within a specific cultural community? Neither did I... This means that we are more different from the members of our own community than the community as a collective can be considered different from any other community of homo sapiens out there, making categories like, for example, race an entirely cultural phenomenon - obviously.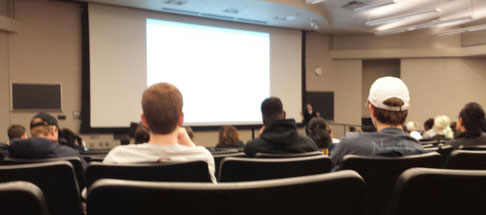 Every Tuesday night we have a WCBN Sports meeting. Since we want to change our social media appearance, website content and podcasting frequency, we have a lot to talk over and discuss at the moment. It feels like we are really starting to change things that have gone wrong with this organisation in the past couple of years. I mean just look at these highly motivated faces and tell me "INNOVATION" isn't written on them!

Someone who should be a bit more motivated or who should at least feel bad is my pizza guys. Every time I go to get pizza - and that is a LOT - they get my name wrong even though I spell it out for them every single time! Instead of being annoyed, however, I came up with a plan. Every time they get my name wrong - so always - I'll take a picture of the hilariously fictitious name that's supposed to be mine. Shortly before I leave I'll make a collage or scrapbook or something similar and give it to them as a going away gift. This way they might realise just how special they really are...