Colourful houses, a sophisticated pathway system and large common areas including a pool, a pond with a fountain, as well as a grill for relaxed breakfasts and tables to sit together. The authentic equivalent to vintage furniture (used furniture), welcoming people and the feeling that something's always going on. Our hostel was more of a little village than the typical hostel I was used to from travelling around New Zealand. Over there you had the community aspect, which was nice, but the hostels usually were a lot less beautiful.
Because they had someone cook every morning, our days usually started out with slightly burned pancakes and potatoes, an egg, naan bread and orange juice. Eating a homemade breakfast by the pool while in a shirt is something you enjoy after enduring 3 months of Michigan winter.
When we made our way towards downtown we had just one thing in mind: Relaxing. As I mentioned in Part I, our mid-term workload had pushed us to the edge and another day of sightseeing would have dragged us right over. That's why we had a quick look around the city center, bought a Praline (caramel with almonds and pronounced "Pwrählein"), got on a street cart and went all the way to Audubon Park.
Now, a quick word about the street carts in New Orleans: 
1) I'm not sure whether it's street cart or street car.
2) It's the oldest operating street cart in the US. It's even older than the cable cars in San Francisco.
3) It's the cheapest way to get around New Orleans ($3 a day).
4) It's always crowded.
5) It is slow as hell.
6) There is nothing more relaxing than a nightly street cart ride with open windows and the fresh spring air blowing in.
In Audubon Park, we listened to music (and sang along), had a nap and did what every student now again wishes they could do: Absolutely nothing. You wouldn't believe how necessary this felt at that moment. Our Sunday was served off by our sensational waiter that night, somewhere in a small patio bar in the French District, where we grabbed some dinner. The waiter seemed to be some sort of professional dancer and swung his hip at us with every plate he brought to the table. Since we're students and not rich people we didn't thank him through a huge tip but rather with a big smile, which, I'm sure, he'll appreciate just as much, because what is more valuable than love?
The third day was sneaky. It appeared to be much shorter than the other days! After an awesomely mediocre breakfast, a street cart ride to City Park - here we had our daily nap again (man, I love vacations) - and a small picnic, we set off to the 'New Orleans Museum of Art' (NOMA), which is also in City Park. Inside we took some sexy pictures...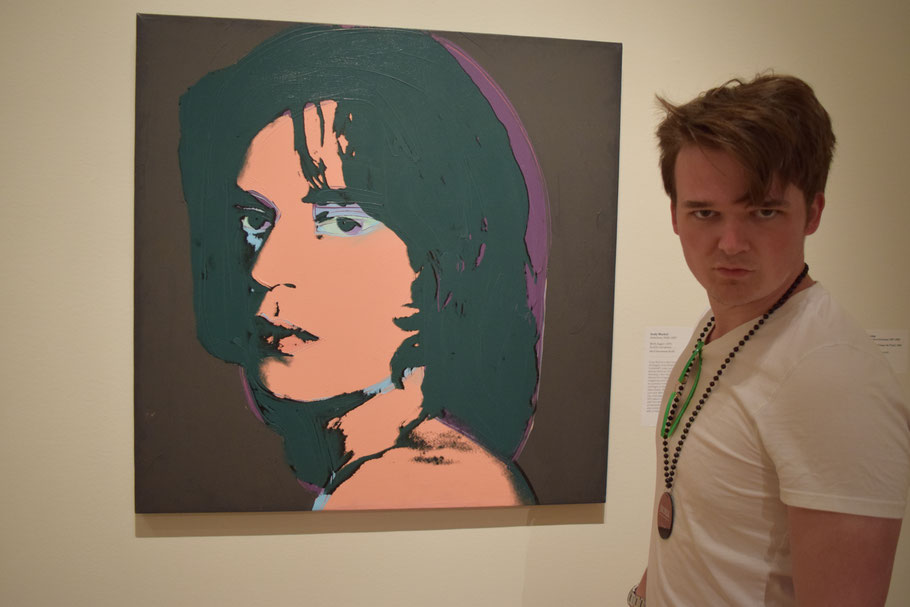 ... and pretended to look at weird paintings with a sense of questioning appreciation of what the hell the artist could have thought of while drawing two blue stripes on a blanc canvas.
Cuban food is great! So, we had some that night, followed by what I can only describe as edible clouds. What the hell am I talking about? Well, there are these things called Beignets, right... they taste like clouds freshly harvested from right underneath St. Paul's sandals. Cafe Du Mond, quite close to the French Market, is famous for making the best Beignets known to humankind and I can assure you: I've never had any better ones!
Sitting in the warm New Orleans night, with busy people swarming around us, going places or staying exactly where they are, Katharina told me about this weird fear of hers... She's afraid of giving money to street artists. I looked over to the jazz band playing in front of the cafe and confiscated her Beignets. Since she was really craving those small, powdered bastards she went for it and overcame this fear once and for all and there is proof:
Our last day in town was probably, in its complete lack of productivity, the most productive one. A New Orleans trip without at least one sunset over the Mississippi river, isn't a New Orleans trip. And after a long day of lying in the Mississippi sun, doing Mississippi jack, the sun Mississippily set! 

This would be a nice way to end this second article about our trip to the South! Later that night, however, Katharina met the love of her life in the streets of downtown New Orleans. 
I just wanted to share this beautiful moment between Katharina and Frank with the world, and by world, I mean you crazy people who actually read my blog! It's not going to work out between them, for obvious reasons: The pig's underage!
Mira, Sofia
Sin tu mirada, sigo
Sin tu mirada, sigo
Dime Sofia, cómo te mira
Dime cómo te mira, dime
Sé que no, sé que no
Sé que solo, sé que ya no soy oy oy oy
Mira, Sofia
Sin tu mirada, sigo
Sin tu mirada, Sofia